Facilities >> Proctor >>
Proctor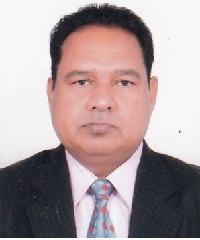 Prof. R.K.Deswal
( Brief Bio-Data)
Designation: Proctor, Kurukshetra University Kurukshetra.
Name: Prof. R.K.Deswal(Senior Most Professor)
Dept. of Philosophy,
Faculty of Indic Studies,'
Kurukshetra University Kurukshetra, Haryana
Qualification: B.A.with Hons. In Philosophy
M.A.&Ph.D.in Philosophy
Diploma in Sanskrit.
Diploma course in Yoga.
Experience:
I. Presently working as University Proctor, K.U.K.
II Thirty years Teaching Experience.
III Chairmen, Dept. of Philosophy forTen Years.
IV Director, Buddhist Studies Center for Three Years.
V Incharge Jagat Guru Brahmanand Saraswati Chair.
VI Presently working as senior most Professor in the Dept. of Philosophy, Kurukshetra University,Kurukshetra.
Publications:
I. Three Books Published.
II. Forty Research Papers Published in Different National and International Research Journals.
Conference &Seminars:
Thirty Five Seminar and Conferences attended & presented papers on different themes of Philosophy.
Session Chaired: Fifteen Session Chaired in different Seminars and Conferences.
Guidance at M.Phil. Level;
Forty students have complete their M.Phil Disseration and awarded the Degree of M.Phil. Philosophy under the supervision.
Guidance at Ph.D. Level:
Seventeen students completed their Ph.D. theses and awarded Ph.D. Degree under the supervision.
Special Achievement :
I. Awarded University Gold Medal by the KurukshetraUniversity.
II. Awarded University Research Scholarship for Ph.D. on merit basis.
III. Appointed External Examiner for Mauritius University, Mauritius.
IV. Working as Chief Editor of 'Darshan -Jyoti' Referred Research Journal in the subject of Philosophy.
V. Founder President of Haryana Darshan Parishad.
VI. Founder President of 'Krishan Yoga Ashrama Charitable Trust'.
Specialization: Indian Philosophy with special reference to Gita and Buddhism & Philosophy of Religion.
Hobby: Interest in Yoga , Religion and Spiritualism.
Contact: Mobile – 70821-13124, 94665-22694.
Intercom: EPABX NO. 01744-238410, Proctor: 3022(O) 3074.
Email: proctor@kuk.ac.in
Deputy Proctor - Dr. Kusum lata
Website: kuk.ac.in
Minutes of Anti-Ragging 2016-17
Minutes regarding problem of Acoholism and de-addiction measures in the University Campus